The crypto fear and greed index dipped to the lowest value since the last 3 months on March 1st. Fear in crypto markets was essentially a result of price corrections.
The price of Bitcoin crashed nearly 20% on February 28th. The Price of currency went close to 44,000 after hitting the $57K in the same month. Altcoins followed the parent currencies and slashed in value. This triggered fear in the crypto market. The crypto fear and greed index showed a value of 38 on Match 1st. However, it has recovered from that position at the time of this writing. Nonetheless, the greed level is still low as compared to last month.
The crypto fear and greed index has values ranging from 0 to 100. "0" means extreme fear, whereas "100" is extreme greed. The highlighted point in the chart above depicts the value of "38", which is indicative of fear.
The index collects data from multiple sources to put a number on crypto market sentiments. These sources include volatility (25%), Market Volume (25%), Social Media Keyword Analysis (15%), Surveys (15%), Dominance of Coins in the Market (10%), and Google Trends (10%).
Fear In Crypto Markets:
Crypto markets are extremely volatile. Bitcoin, the leader of all crypto, can surge or plunge by thousands of dollars within hours. Resultantly, crypto investors are anxious and emotional most of the time.
Long-term hodlers of bitcoin and other currencies have shown resilience over the years. People with multiple years of holding on to BTC are less likely to sell bitcoin at the smallest inconvenient trend movement. The newbie investors, however, take actions immediately based on market sentiment.
1+ year hodlers: selling
2+ year hodlers: selling
3+ year hodlers aka "been in a bull market before and know how this works": stacking sats#Bitcoin

Chart: https://t.co/7VRnyrWbaD pic.twitter.com/MsnZptKxGF

— Rafael Schultze-Kraft (@n3ocortex) March 10, 2021
Fear in Crypto markets is usually a result of the downward trend alongside the usual talk of 'bitcoin is going to zero'.
Bitcoin's fundamentals are quite strong today. It has successfully reclaimed the $57K value. In consequence, greed level is rising in the market.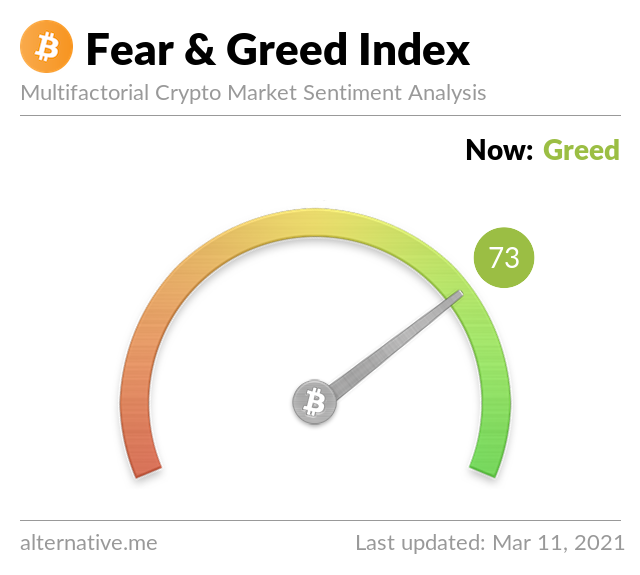 Since the birth of bitcoin in 2008, the cryptocurrency market has remained speculative. However, numerous institutions are showing interest in crypto following the pandemic. This is telling of the fact that crypto is here to stay. Moreover, market crashes and bullish movements are part of the deal in the long run.